Local Advertising Opportunities
VHEDC Annual Business Directory & Community Profile
Published annually to highlight the unique features of the local business community. Is distributed to business lobbies, medical facilities, hotels in the area. 4000 copies published annually. For more information contact Ling Becker at [email protected]
Local Newspaper
White Bear Press, White Bear Press, Vadnais Heights Press, Citizen, Shoreview Press, Quad Community Press, North Oaks News, and St Croix Valley Lowdown. VHEDC and Press Publications offers a special deal for VHEDC investors who have never advertised in the past. Contact Patty Steele, 651 407-1213 or [email protected] for more information.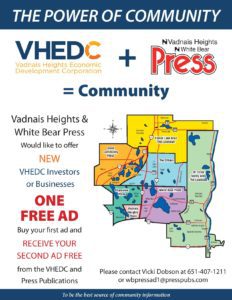 White Bear Magazine
Twelve issues per year, monthly publication, 10,000 copies distributed each month, targeting the upper income demographic, delivered by bulk mail, homes in the White Bear Lake area. Contact Katie Freemark, Tiger Oak Publishing, 612 787-3156 [email protected]
Read latest edition
Town Life Magazine
This is published quarterly, with each issue covering three months of upcoming news, features and events. It is delivered within the WB Press to all homes in WBL, WB Township and Gem Lake; 10,000 homes and 25,000+ readers) and cover the months of December, January and February. It is also sold via subscription and in retail stores such as Lake Country Booksellers and Festival Foods-WBL. All deadlines and ad rates can be found at www.town-life.com.
Daily Paper
St Paul Pioneer Press – contact Vanessa Stroh, Account Executive, 651 228-5266, [email protected]
Statistics from recent Vadnais Heights Community Survey
Local Vadnais Heights residents get their news from the local newspapar, Vadnais Press.
Vadnais Heights residents get their local news from the St. Paul Pioneer Press.
Vadnais Heights households have access to the internet.
Learn More
Vadnais Heights Business Directory & Community Profile
Read the latest edition to learn more about the local business community.
Learn More