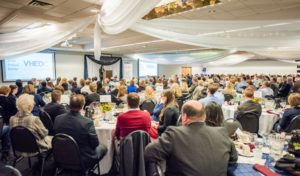 The VHEDC Annual Dinner celebrated a year of hard work and the vitality of the Vadnais Heights and Northeast Metro business community. Business Award winners are either located in Vadnais Heights or are VHEDC investing businesses. Additionally, the award-winners demonstrate strong commitment to social responsibility and exemplify strong community involvement.
The 2018 Award Winners are:
NAC Electrical & Mechanical Services, Keith Warner Standard of Excellence Award;
Dynamic Air, VHEDC Business Achievement Award; and
Century College, VHEDC Partnership Award.
Community Partnership Award: Century College
Century College serves over 21,000 credit and non-credit students each year, and offers over 140 degrees, diplomas and certificates in a wide variety of high-demand program areas, including applied design, arts and humanities, business, health sciences, human services, science, technology, engineering and mathematics (STEM), social and behavioral sciences, trade and industry, and non-credit workforce training. Dedicated to student success, Century College graduates more than 1,650 students each year, awarding over 2,000 degrees, diplomas and certificates. Century College President Angelia Millender says, "This award is a great honor for Century College, and an affirmation that our commitment to local businesses and communities is making a real difference. The VHEDC has been an invaluable partner to us as we prepare students to enter the workforce. I am confident that together we will continue to keep the Northeast Metro area economy strong."
Business Excellence Award: Dynamic Air
The VHEDC Business Excellence Award pays special tribute to outstanding companies that continue to thrive and support the local economy. Dynamic Air Inc., founded in 1969 and headquartered in Vadnais Heights, specializes in pneumatic conveying of dry bulk solids for the processing industries. The company manufactures equipment and systems for handling a wide range of dry bulk materials from silica sand to sugar, with over 15,000 installations worldwide. It has offices in Brazil, China and the United Kingdom. Dynamic Air President Jim Steele says, "Since Dynamic Air moved to Vadnais Heights in 1977 and through our three expansions, the City of Vadnais Heights has been an excellent partner in our continuing success."
The Keith Warner Standard of Excellence Award: NAC Mechanical & Electrical Services
Named in honor of a former director of the VHEDC, this award is given to a business that has shown a singular degree of excellence in the areas of business success, philanthropy and community service. NAC Mechanical & Electrical Services, founded in 1984 and headquartered in Vadnais Heights, provides innovative construction and service solutions – from mechanical and electrical to building automation and service – for medium and large-scale commercial projects with a customer-first model that puts the customer's building in the industry's most capable hands. NAC's offices and fabrication shop are in Vadnais Heights, and the company has a second office in Mankato, Minnesota. NAC President Lynn Bishop says, "NAC is very appreciative of this award. It is an honor. We are proud to be part of the vibrant Vadnais Heights community and look forward to providing continued support through our community outreach and focus on business growth and diversity, technology and customer service."
VHEDC Executive Director, Ling Becker expressed her appreciation to the award winning businesses. "The VHEDC Is proud to honor area businesses for their extraordinary business achievement, their commitment to community, and their willingness to partner toward building a stronger workforce for the future. Congratulations to all winners!"
VHEDC Executive Director, Ling Becker expressed her appreciation to the award winning businesses. "The VHEDC Is proud to honor area businesses for their extraordinary business achievement, their commitment to community, and their willingness to partner toward building a stronger workforce for the future. Congratulations to all winners!"