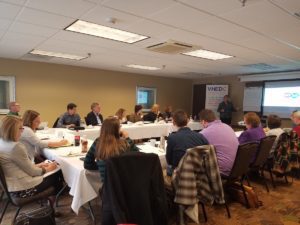 Over the past couple of years, the VHEDC has supported the area nonprofit community by creating learning and networking opportunities for nonprofit leaders. With the help of a Steering Team made up of area nonprofit leaders, VHEDC is proud to host the Partners for Good 2019 cohort as a continuation of the efforts.
The group will engage in lunch and learn opportunities, after-hours networking, and other special events throughout the year.
All Lunch & Learns are held at Merrick (3210 Labore Rd, St Paul, MN 55110) from 11:30 am to 1:00 pm. Cost is $100 for the year. Guests are $25 per session. Space permitting. After hours networking is from 4:00 to 5:30 pm at locations to be determined.
Participants can participate in various VHEDC special events including the Annual Business Appreciation Event, NE Metro Job Fairs, NE Metro Expo, VHEDC Annual Dinner, etc. Check VHEDC Calendar for more information throughout the year.
Theme for 2019: Stepping out of your comfort zone