Spotlight feature:

How long has MidCountry Bank been a part of the Northeast Metro community? How many employees?
MidCountry Bank has 14 branch locations in Minnesota, with a bank presence in White Bear Lake since the spring of 2016.  The White Bear Lake branch offers a full range of services for consumer and commercial banking.  MidCountry Bank employs 190 people company-wide, with 7 team members based out of White Bear Lake.  Our diverse employee groups enable us to provide clients with quick and comprehensive support.
What are MidCountry values that make it unique in its field?
MidCountry Bank's 5 Core Values provide a framework for our approach to banking service delivery – Compassion, Honesty, Excellence, Integrity and Fairness. The result is a bank that strives to help each client, employee and local community be successful. We don't just name these values, but live them. One memorable comment that was received by a new client was, "Wow! I've never seen ANY bank whose first value was Compassion".
Describe the ways MidCountry is involved in the community, outside of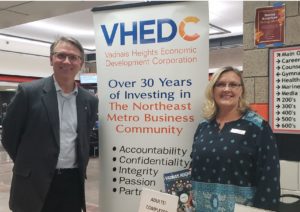 banking — ways that strengthen/improve the community.
Supporting the community through volunteer efforts and financial contributions that align with our culture and values is important to MidCountry.  Collectively, White Bear Lake branch team members are represented on 5 non-profit boards, and close to 12 committees ranging from White Bear Events for the Bear'ly Open raising funds for the WBL Area Food Shelf, Manitou Days Parade and Events, Lakeshore Players Capital Campaign, St Paul Police Federation, WBL Chamber of Commerce, WBL Area Educational Foundation Events, WBL Rotary and committees, VHEDC Events, and BRT Rush Line Advisory Committee.
What professional services does MidCountry offer?
In addition to offering a full range of traditional banking deposit and lending products and services, we also have several specialized divisions of MidCountry Bank.  As a community bank, MidCountry provides high quality, diversified financial services and solutions to customers to meet their personal, business and professional banking needs.