On Tuesday, May 22nd, Mold Craft – an award-winning custom injection mold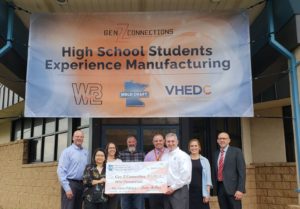 manufacturer – presented a $3,000 to Vadnais Heights Economic Development Corporation (VHEDC) for the expansion of the Gen Z Connection: Skills and Careers in Manufacturing program. The funds were recently granted to Mold Craft from the American Mold Builders Association (AMBA), which includes over 250 mold makers from around the country. In late 2016, the AMBA Board of Directors set aside $100,000 for grants to member companies to support their businesses and local communities.
Mold Craft, a privately-owned company founded in 1964, has built a reputation as a high-quality, custom maker of injection molds for plastic and metal parts. In 2015, Mold Craft was recognized as Mold Builder of the Year by the AMBA. In 2017, it was one of four Northeast Metro manufacturing companies that collaborated with VHEDC, White Bear Lake Area Schools (WBLAS), Ramsey County and other community partners to create the Gen Z summer internship program for four White Bear Lake High School Manufacturing Pathway students to gain hands-on manufacturing skills through paid internships. In November Mold Craft, Du Fresne Manufacturing, SCHWING America and Specialty Mfg. Co. received the VHEDC Community Partnership Award, and the following January VHEDC received the Partnership Award by the Economic Development Association of Minnesota (EDAM) for the Gen Z Program, which VHEDC financially supported in 2017 and will continue to do so in 2018.
The 2018 Gen Z summer internship program will be expanded to include eight students and eight manufacturing companies. Justin McPhee, Mold Craft co-owner and Vice President of Engineering, says, "Mold Craft is passionate about the art and craft of injection mold making and believes it is important to instill that passion in young men and women who may become the mold makers of tomorrow. The grant funds presented to VHEDC are for the Gen Z program; also, it allows four WBLAS students to attend St. Paul College's summer manufacturing camp. By providing support, educational opportunities and hands-on experience within our industry, Mold Craft envisions the continued success not only of the Gen Z program but also of its own vision of developing future mold makers through a long-term pipeline of high school students that will choose to continue their education within the mold manufacturing industry."
Additionally, Mold Craft will award a $1,000 scholarship to a White Bear Lake High School student interested in pursuing a career in CNC Toolmaking at St. Paul College and $1,000 to allow other area high school students to attend the summer manufacturing camp at St. Paul College. McPhee, on the AMBA Board of Directors since 2008, is also Vice Chair of the Manufacturing Advisory Council at St. Paul College. In this role he gives direction to the college on industry needs and professional skills which impact curriculum decisions. He also maintains relationships with multiple high schools and other colleges.
Sara Paul, WBLAS Assistant Superintendent, says, "Through Justin's leadership, Mold Craft has been pivotal in creating the conditions to help students find their purpose through opportunities in the manufacturing sector." And Jenny Moore, WBLAS Career Navigator, says, "The White Bear Lake Area School District values the partnership and support Mold Craft provides for our Manufacturing Career Pathway students. Scholarships and employment opportunities like these are examples of how collaboration between employers and schools help students become engaged, productive citizens and address workforce shortages."
"Mold Craft is a great example of a business that not only excels at serving its customers and employees, but has made significant community investments that are helping to transform our area economy for the future. I am grateful for their leadership and support in this important work," stated VHEDC Executive Director Ling Becker.